Virtual Friday Starry Nights
January Star Party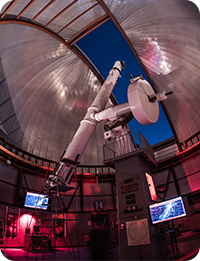 Friday, January 22
7:00pm - 8:00pm

It's time for Roper Mountain's next Virtual Star Party! This hour-long event is the perfect opportunity for you to star gaze with us from your own home. Guest astronomers will be present at the Charles E. Daniel Observatory to showcase our refractor telescope and its capabilities. During the event you'll be able to interact with the astronomers, ask questions, and discover the wonders of the nighttime sky. We hope you'll join us as we look for planets, stars, moons, and much more!



This event is on a first come, first serve basis. It is FREE for members and $5 per household for non-members.

*** Please note this event is not located at Roper Mountain but is a virtual event.***


---
For the At-Home Astronomer
January 8-11 – Planetary Trio Visible
Three planets – Jupiter, Saturn, and Mercury – will be bunched together in the sky in what is known as a "planetary trio." This is the first planetary trio since October 2015! To view the cluster of planets, look low in the western part of the sky at dusk.
More information about the Planetary Trio from EarthSky.org.
January 24 – Mercury at Greatest Eastern Elongation
The planet Mercury reaches greatest eastern elongation, which means that it will appear farthest from the sun as viewed from Earth. This is the best time to view Mercury because it will be at its highest point above the horizon in the evening sky. Look for Mercury low in the western sky shortly after sunset.
More information about Mercury's greatest eastern elongation from EarthSky.org.
January 27 – Wolf Moon
There will be a full moon tonight, also called the Wolf Moon. The Wolf Moon is the name for the second full moon of the winter season, which began on December 21, 2020. (The first full moon of the winter was season was December 29, 2020). Look high in the sky to see the bright moon shining all night!
More information about the Wolf Moon from EarthSky.org.
---
---