Roper Mountain Science Center e-Learning Live! (Middle School)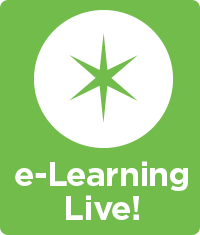 Join us for a virtual visit to Roper Mountain in this series of live, standards-based demonstrations specifically designed to support student learning in a virtual environment. Each quarter, multiple indicator-specific lessons aligned to the GCS pacing guide will be offered that not only provides subject-specific content, but can also assist students in practicing their inquiry skills.

To maintain proximity to the pacing guide, lessons for each grade level will change every few weeks. New lessons will be added each quarter. Teachers may register for each lesson offered for their grade level.  These lessons are offered through Zoom.




Specifics include:
ten to fifteen-minute live demonstration by our Roper Mountain science or social studies specialist
question and answer session with our Roper Mountain specialists via chat box
total connection time is approximately 30 minutes

*please note: teachers are required to be logged in with their students


To register, please complete the following:
click on the appropriate lesson and follow the link to our registration page.
enter the quantity for the number of students in your class FOR EACH TIME SLOT that you wish to attend. Times for Middle School sessions are as follows:
8:45
9:30
10:30

12:45

1:45

2:30
This FREE "purchase" reserves seats for your students in the session and allows us to know how many participants to expect.
a minimum of 10 students is required to register for a session
once registered, you will receive a confirmation email with details about the event
prior to the event, you will receive a second email containing the link for your session
if you are not viewing this lesson in class with your students, it is the teacher's responsibility to share this link with your students
*please note: because this is a virtual session, there may be multiple classes attending at the same time with up to 250 participants per session.

Deadline for registration is four days prior to the date of the session for which you are registering.
Because of our ticketing software, you may receive tickets by email. Please disregard them.
For questions about registration, contact Debbie Ogle at dogle@greenville.k12.sc.us.
---

6th Grade
Weather & Climate: Atmospheric Layers
Join in the fun of our demonstration-rich Atmospheric Trivia game that immerses students in content related to the topics of atmospheric layers, composition, and pressure.
November 11, 12


Weather & Climate: Groundwater Infiltration and Run-off
December 2, 3, 6, 7

---

7th Grade
Organization of Living Systems: Classifying Cells
Explore the hidden world of cells through the lens of a microscope in order to characterize each as plant, animal, protist, or bacteria.
November 11, 12


Organization of Living Systems: Good and Bad Bacteria
December 2, 3, 6, 7

---

8th Grade
Wave Classifiction & Characteristics
November 11, 12


Wave Behaviors & Interactions
December 2, 3, 6, 7

---
---